As some of you may know, I have been in the process (for several months now) of decorating my girls' room. New paint has been slapped on, most of the furniture has been purchased and arranged, and now– it's time to decorate in a practical, CHEAP, and DIY way. When I was given the opportunity to work with Amy from Mod Podge Rocks! and her new line of fabulous Plaid Peel & Stick Stencils, I knew exactly what I wanted to do– DIY storage!
Introducing my fun (and sparkly!) DIY Glitter Nesting Boxes. The girls have tons of little trinkets, toys, hair bows, bracelets– you name it– that desperately need a place to live that's up and away from where it's most likely to get lost. I found these nesting boxes at Michaels and thought they were perfect for what I wanted to do! So, of course, in my DIY fashion, I am going to show you how to make your very own Glitter Nesting Boxes. Your kids will love it!
What you will need:
1 Plaid Mod Podge Rocks! Peel & Stick Stencil in Starlite (You can find these at Michaels)
Mod Podge
Craft Nesting Boxes (I found these at Michaels)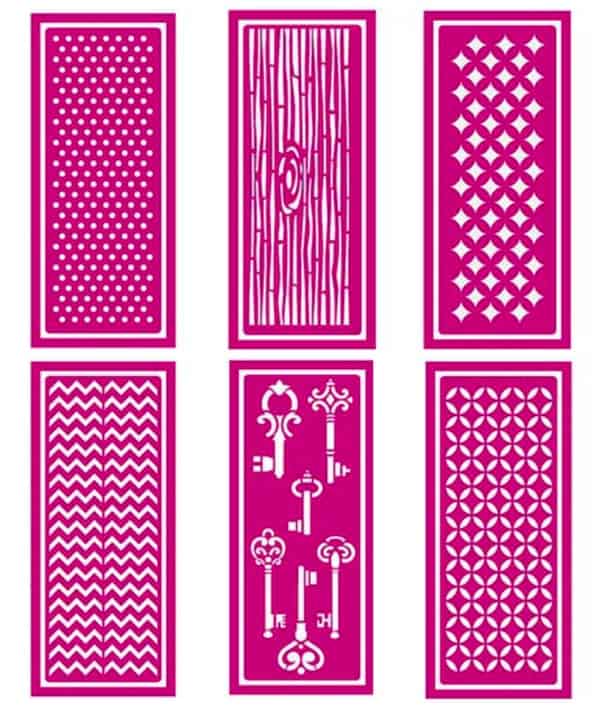 FYI- this is the entire line of the Mod Podge Rocks! Stick & Peel Stencils from Plaid if you want to go with something other than what I used. They are all great!
Be sure to read the back of the stencil packaging. It gives you all the instructions on how to use your Peel & Stick Stencil. There's also a little blurb about Amy you can read. She's a pretty rocking gal!
Peel your stencil off the backing and be sure to keep a hold of that backing because you can use it to re-stick the stencil to it after you clean it.
Position your stencil however you want it on the nesting box and lightly press so it adheres to the box.
Using the spouncer, liberally apply the Mod Podge to the positioned stencil.
Remove stencil while Mod Podge is still wet. Be sure to evenly coat your stencil because as you can see here, I did not so there are some inconsistencies in the pattern. But that's ok– it gives it it's own personality, right? 🙂
Apply the glitter and shake off any excess. Once the Mod Podge has dried completely (24 hours), dust off any excess with a dry brush. That's if you want to. 🙂
And there you have it! You can of course paint your nesting boxes before you apply your stenciled Mod Podge and Glitter, but I really like the way the box looks when left plain. I guess that's just my design aesthetic!
Now, onto another awesome part of this post– a GIVEAWAY! How would you like to win your own stencil? Just enter the contest below and I will choose a random winner!
a Rafflecopter giveaway